Traditional methods of roof inspection typically include putting a person on top of a roof, usually accessed by a ladder. This method of inspection can be dangerous and time-consuming, often requiring specialised equipment such as safety harnesses. With drones, the need for manual inspections is eliminated, by allowing for full, high-quality inspections without requiring a human to ever leave the ground. Roof inspections routinely need to be carried out by roofer or contractors employed to repair or replace roofs, to assess the amount of work that needs to be done and provide accurate estimates in less time. Time and man-hour savings adds up to lower costs both for the roofing company and the customer.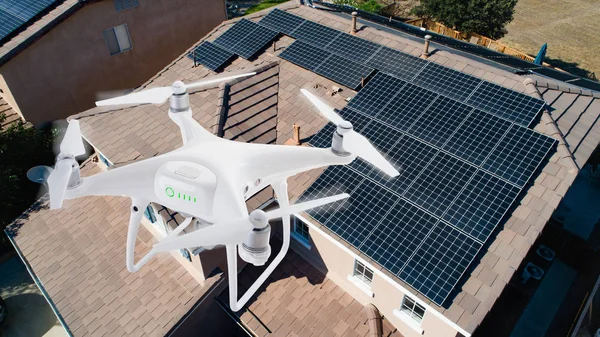 Other instances requiring roof inspections are real estate transactions, or in damage assessment for insurance purposes. In the latter instance when a roof has been damaged by a storm or tree limbs, the roof is not safe to access on foot, in which case the safety benefit of inspection by drone is unbeatable. Insurance adjusters or others can easily deploy a drone to get a full picture of the damage and repairs that need to be done. Also important in this process is the documentation of all damages, which is easily made possible with the high-quality images provided by roof inspection drones. In real estate inspections, often prospective buyers want a detailed and accurate picture of the state of the roof, including detecting possible leaks or insulation problems. This type of information is easy to gather with the use of thermal cameras, that can help pinpoint any areas of concern. Roof inspections are also a routine part of maintenance of commercial properties, where thermal images are especially key to locating areas of potential problems with heat loss, to ensure that they are dealt with at an early stage to prevent costly repairs down the road.
Aerial surveying technology provides high-quality, geotagged images that can be processed with mapping software programs to create 3D maps or cloud points. These virtual environments are extremely useful for commercial building renovations and reconstruction projects, or even for residential reroofing projects. With a 3D map available of the existing building and roof structure, the process of planning and redesigning for the new roof structure is simplified and streamlined. Gathering this data is really only possible with the technology and perspective made possible through aerial surveying.
We're always pleased to provide you with a quote but bear in mind that before we accept any job and sometimes before we can provide an appropriate quote, we may need to ask you some questions. There are many regulations that apply to the operation of RPAS (remotely piloted aircraft systems). we're required by CASA to ensure that we at all times operate in a manner that is safe and legal.